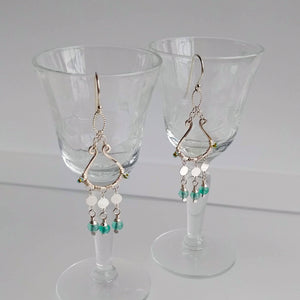 This is a fun style with a bit of flash. Fine silver was formed and hammered to create this unique shape element. The tiny portions of Sterling silver sequin chain are very reflective and sparkle with every movement. Tiny flame-worked vintage glass beads from Germany add the cool Aqua color and are topped with the tiniest Sterling caps. 
Sterling silver French hooks.
Length 2-1/2"
Gift boxed, earrings are carded with material description and earring backs enclosed.